About
Thousands of innocent orphans, cruelly abandoned: alone, hungry, desperate, terrified victims of disease, war, and extreme poverty. Please help us house, feed, love, and rehabilitate them.
Web Site www.abandonedchildrensfund.org
Email admin@acf-mail.org
Success Story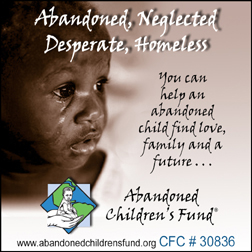 Innocent children, in rural areas and villages all over the undeveloped world, bear the brunt of deteriorating families. Disease, war and awful grinding poverty wear down the weak and vulnerable remnants of families. Many children are sadly ABANDONED and drift by necessity into sprawling urban shanty towns and barrios where unspeakable dangers prey on them. When there is no longer a parent to protect and care for a child in desperate circumstances, predators and frightening loneliness prey on them.
In Juarez Mexico, 10 year old Gerardo & his little sister lived with their mother, who was a prostitute and drug addict. One day it was just he and his little sister. There was never an explanation, he was just left on his own to feed and provide for his 7 year old sister. All Gerardo knew were hotel lobbies, bars and the brothers of Juarez. For months he scavenged scraps of food and often gave what little he had to his sister, going hungry himself. Exposed to constant hostilities on the ragged edge of survival Gerardo became a thief (and worse)to protect himself and his sister from ever present danger.
One day the authorities came & took both into custody, separated him from his sister and placed Gerardo in our orphanage/school. For many months Gerardo was like a wild, feral animal, untrusting, belligerent, brooding and depressed but he was loved and accepted unconditionally and eventually he broke down, wept and admitted he needed help. Today 13 year old Gerardo has many friends he loves and plays with while excelling so well in his learning he's become a leader in his school in interscholastic competition. His prayer is some day he will meet his sister again.