About
We teach at risk school children how to avoid human trafficking, serve life- sustaining meals to the poor, train the impoverished to be independent, support, and commission indigenous missionary pastors to plant new churches and spread God's word.
Web Site www.ChildrenRescueMission.org
Success Story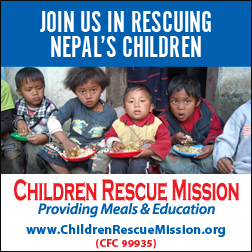 Imagine that you are 12 years old again, abandoned by your parents, with two younger siblings to care for and nowhere to go.
Sarita grew up in broken home, with a violently abusive father and an adulterous mother. On top of this, she and her two younger siblings were in a constant battle against poverty throughout her childhood. Sarita worked hard to take care of her siblings, but with no one to provide for them, she struggled deeply with this task. She had a longing for an education and a better life, but was trapped in a household where she was deprived of these privileges.
One day her father came home in a drunken rage and intended to kill Sarita, her mother, and her brother. Luckily the two escaped, but in turn, Sarita's mother took her younger sister and left Sarita and her brother. With no one left to turn to, the two siblings took shelter in a nearby church. With the help of the local police, Sarita's father was arrested and put in jail. However the two had already lost everything. With no home, family, or help from Nepal's government, Sarita and her brother became high-risk for human trafficking.
CRM was able to help place them into foster families to feed, shelter, and love them. It seemed unlikely that Sarita would ever get to follow her dream of achieving a good education. However, with the help of our sponsors, CRM stepped in to help and today she is one of the 22 graduates from her secondary education school. She took advantage of the opportunity to learn and kept straight A's in school.
Children Rescue Mission is there to help those in need especially orphaned low-caste poor.
CRM we feed, educate, and protect desperate children of Nepal.