About
Providing Army, Navy, Air Force, Marine Corp, Special Forces veterans in need the best legal counsel free of charge to regain their rightfully earned care, benefits, & compensation. We provide specialized training to attorneys to fight for veterans.
Web Site www.vetsprobono.org
Email outreach@vetsprobono.org
Success Story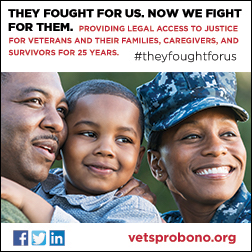 Navy veteran Chuck Jones received three Purple Heart medals for his service in Vietnam. But as far as he is concerned, the toughest battle he ever fought involved getting benefits for his daughter Michelle, born in 1986 with a form of spina bifida.
The Agent Orange Benefits Act authorized benefits for children born with "all forms and manifestations" of spina bifida to any veteran parent who served in Vietnam. Chuck and his wife Mary applied to VA for Michelle's benefits in January 1998, but were turned down by the VA regional office. "I vowed that if I had to go to Washington, D.C., I would fight for her before the Congress to make sure she was taken care of," Mr. Jones said.
He appealed, with five neurosurgeons opinions specifying the form of spina bifida which was covered by the law; VA's own chief of public health concurred. Still, the Board of Veterans' Appeals ignored the medical evidence and rejected the claim, based on a VA General Counsel ruling.
Mr. Jones began to work with a Pro Bono Program attorney. "He told me they had reviewed Michelle's case and wanted to take it on. Those guys picked it up and they fought it and fought it and finally after about three to four years, the thing went through."
In 2009, Michelle, now 24, was found to be 100 percent disabled. She is in a VA spina bifida program, with all medical expenses covered. In addition, she will receive benefit checks every month for life.
"I gave my life for the country, and if another vet is out there and has a kid in the same condition, I want them to know that help exists. In fact, Mr. Jones added, I know that thanks to them, no matter what, my daughter is taken care of for life."