About
We provide essential information, practical tools and inspiration to people living with Parkinson's disease. We fund early-phase, innovative research that focuses on exercise, speech, movement and other factors that affect quality of day to day living.
Web Site www.davisphinneyfoundation.org
Email contact@dpf.org
Success Story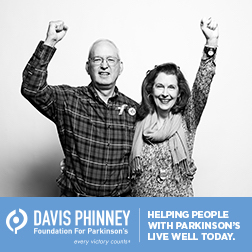 "I was diagnosed with Parkinson's in 2010 at the age of 72. It's not exactly what I had planned for myself after my 30-year career as a teacher; however, thanks to the Davis Phinney Foundation, I discovered that not only are there proven and useful resources out there to help people with Parkinson's live well, but that my days as a teacher were far from over.
While it took me a while to come to terms with my Parkinson's diagnosis, I soon learned that helping others traveling a similar path would be one of the most important actions I could take to live well myself.
I don't know where I'd be today if I hadn't found the Davis Phinney Foundation. They've given me hope, resources, family and a place to call home.
After many years of experimenting with medications, exercise and complementary therapies, and connecting with all of the amazing people associated with the Foundation, I see my job now as being a resource to other people. As a Parkinson's Guide for the Davis Phinney Foundation, I do my best to share everything I've learned with others, provide them encouragement and support and be the cheerleader they need when Parkinson's becomes too much.
If you or someone you love is living with Parkinson's, consider giving today to the Davis Phinney Foundation. There are a lot of organizations out there working to help those with Parkinson's; however, nobody does living well TODAY like the Davis Phinney Foundation. And when it comes down to it, how we live today is most important of all.

Sincerely,
Brenda"