About
Committed to helping children battling pediatric cancer, and their families, by providing financial, emotional, and spiritual support using pie-in-the-face humor.
Web Site www.kgct.org
Email info@kgct.org
Success Story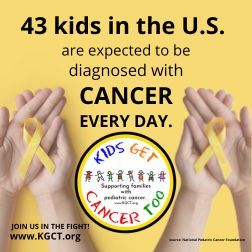 In March of 2020, Ezlynn was diagnosed with Stage 4, High Risk, Neuroblastoma when she was only 3 years old.
After finding the tumor on her adrenal gland, she immediately began treatment. Shortly after treatment began, her Dr. recommended a clinical trial that may also be a good fit for her diagnosis.
The family's insurance company approved the coverage for the first round of treatments of the trial and the clinicals were scheduled. Ezlynn responded well to the treatments and it was recommended that she continue through the following stages of the trial; however, her insurance company denied coverage of further clinical trial treatments.
Through a facebook friend, Ezlynn's story made it's way to Kids Get Cancer Too. Our organization agreed to cover the cost of the rest of her clinicals and Ezlynn continued treatment without any delays in the schedule.
By July of 2020, Ezlynn's scan came back clear, without any signs of cancer, and in July of 2021 she celebrated a full year of being cancer free, and continues to receive clear scans.
Ezlynn started kindergarten this past fall and is being homeschooled by her mom. She is experiencing speech delays due to her loss of hearing, which is a side-effect of the life-saving treatment she received. She and her family are currently learning ASL together and Ezlynn is thriving.
Kids Get Cancer Too is committed to helping families battling pediatric cancer in a variety of ways. Sometimes we pay for wigs, or braces, or special strollers and wagons... and sometimes we pay for clinical treatments that help save a kiddo's life.