About
Lifesaving animal sanctuaries & wildlife rehabilitation centers caring for a variety of species from tigers to turtles, chimps to camels, big cats to small felines, horses, dogs, & bears. Help us give wild & domestic animals a second chance.


Real Life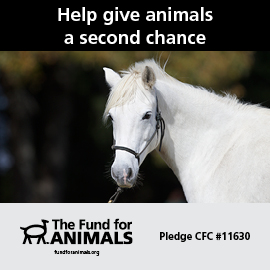 With four wildlife centers, Fund For Animals staff are busy caring for abused, injured and unwanted animals. The Duchess Sanctuary, an oasis for approximately 200 formerly abused, abandoned, neglected, and homeless horses, became home to Angie, an Appaloosa mare rescued from slaughter. A small, nodular bump under her right eye increased in size. The team protected her from the sun, started her on topical chemotherapy ointment and eventually had surgery. She recovered beautifully.
The Cleveland Amory Black Beauty Ranch welcomed two senior black bears. Their owner chose to retire them at CABBR after using them in a traveling bear show their entire lives. The Ranch provides permanent sanctuary to over 40 species and almost 1,000 animals rescued from cruelty, neglect, and exploitation.
The Doris Day Horse Equine Center provides natural holistic training to enhance the skills of equine rescues rehabilitating and working with difficult horses with past traumatic experiences. Rescued horses with a foundational training are far more adoptable, and the likelihood of long-term adoption success is significantly higher.
A completely bald bear suffering from serious mange arrived at the Fund for Animals Wildlife Center on Christmas Eve. After months of intensive treatments, Eve's progress has been steady and extraordinary. She has made herself at home, climbing trees and using the pool on hot days. The Wildlife Center provides year-round rehabilitative and medical care to injured and orphaned wildlife and assists the community with humane solutions to wildlife conflicts. The facility is also a safe home for animals rescued from the pet trade who cannot be released to the wild.