About
Sjogren's is the 2nd most prevalent systemic autoimmune disease. Along with symptoms of dryness, patients experience fatigue, chronic pain, organ involvement, and neuropathies. Help us support patients and find new therapies to treat the disease.
Web Site www.sjogrens.org
Email info@sjogrens.org
Success Story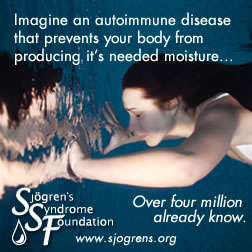 With 4 million Americans suffering from Sjogren's (upwards of 75% yet to be diagnosed), it is so important that we understand the seriousness of Sjogren's and why patients need to be diagnosed.
Lynne is a 36 year old patient and mother of two children, awaiting a double-lung transplant because her Sjogren's caused interstitial lung disease a complication that can occur in Sjogren's patients. Due to her deteriorating condition, Lynne chose the lung transplant as her last option as there is nothing more the doctors can do for her Sjogren's or lung issues. This is one of the many complications that Sjogren's patients fear of developing.
Fran is a 55 year old woman who was diagnosed with Sjogren's ten years ago and developed non-Hodgkin's lymphoma three years ago. As a Sjogren's patient, Fran knew she had a much higher chance (44 fold) of developing non-Hodgkin's lymphoma than a healthy individual and had been regularly monitored by her physician for the onset of lymphoma. Fran is now in remission from her lymphoma, however, she knows that some patients are not as lucky. This is especially true for those who have yet to be diagnosed with Sjogren's and thus do not know of their higher risk of developing lymphoma. Getting a diagnosis is critical so a patient can be monitored for serious side effects and complications.
Victoria is a 38 year old woman who became disabled from Sjogren's and had to resign from a career she loved - being a photo-journalist. She was later advised by her physicians to not have children as her life may be at risk due to pregnancy. She learned that babies of Sjogren's patients have an elevated risk of being born with fetal heart block.