About
Animal Legal Defense Fund is fighting to end animal cruelty. Support the only legal advocate dedicated exclusively to helping animals, and give a legal voice to the voiceless.


Real Life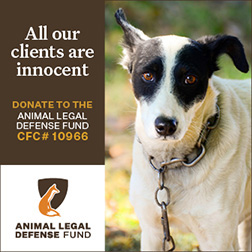 A truck stop is no place for a tiger. That's why the Animal Legal Defense Fund went to court to free Tony, a 10-year-old Siberian-Bengal tiger, from the miserable, lonely conditions he's endured day and night for the past decade at the Tiger Truck Stop in Grosse Tete, Louisiana. And after presenting our case, the judge granted ALDF - and Tony - our hard-won victory, ruling that the permit allowing Tony to be kept on display will not be renewed.
In addition to being subjected to noise and diesel fumes 24-hours a day, Tony is harassed and taunted by visitors at the truck stop. His enclosure is devoid of adequate enrichment like logs, trees, or complex vegetation that would allow him to engage in natural tiger behaviors. He has no pool of water large enough to allow him to submerge himself to cool off in the blazing heat of the summer. As a result of the stress of his confinement, Tony constantly paces on the hard concrete surface of his enclosure, putting him at risk for dangerous and painful veterinary conditions.
No animal deserves to be subjected to a lonely life as a roadside attraction. Thanks to ALDF's fight, Tony will soon leave behind the Tiger Truck Stop for a new life of freedom that he has never known.
The Animal Legal Defense Fund was founded in 1979, with the unique mission of protecting the lives and advancing the interests of animals through the legal system.