About
Poached & slaughtered for ivory. Their habitat turned into roads & villages. We encourage the peaceful co-existence between humans & elephants to enhance the survival of pachyderms, protect and conserve their environment, & promote anti-poaching policy.


Real Life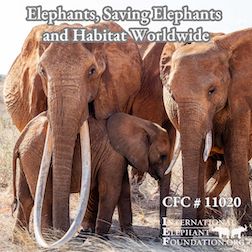 At the age of 13, Tadeo Mugume's entire world has been a small area on top of a hillside overlooking Kibale National Park, Uganda. He frequently encountered wildlife but those experiences were almost always been negative. Like many villages, the community and the wildlife remain in a perpetual state of conflict. Elephants in particular pose an extreme nuisance with frequent crop raiding devastating many livelihoods. This conflict is how the seeds of poaching take root.
Tadeo, however, has had the chance to explore a different side of this story, becoming a member of his school's wildlife club (WLC) when he was 9 years old. With the WLC, he learned about elephants outside of the adversarial relationship he grew up with and began to see them as an asset to his community. They quickly became Tadeo's favorite animal. His drive to learn all he could about elephants led to his selection to visit Queen Elizabeth National Park to see large herds of elephants in their natural environment. He learned from professional game rangers and asked them questions about elephant biology. This trip was an enormous highlight in his young life.
Today, Tadeo is the president of the WLC at his school. He aspires to someday work for the Ugandan Wildlife Authority, and to teach others about elephants as he has been taught. He has truly found his passion, and is an embodiment of the philosophy that we need to build a community consensus for conservation if we hope to protect what little 'wild' is left for these majestic animals. Tadeo is a perfect example of how education can inspire lasting change to create a community consensus for conservation.