About
Our last unspoiled wilderness is disappearing. Antarctica is home to millions of penguins, whales, seals and other unique creatures. Help us protect Antarctica's wildlife and wilderness in the face of climate change and increasing human activities.
Web Site www.asoc.org
Email info@asoc.org
Success Story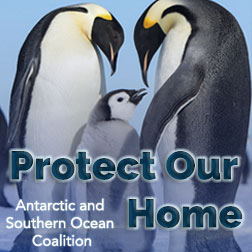 No one country exclusively owns or governs Antarctica. This simple fact places the continent, its surrounding islands and oceans, and its amazing wildlife at enormous risk for environmental harm. For thirty years, the Antarctic and Southern Ocean Coalition (ASOC) has successfully led efforts to promote conservation and ensure adherence to environmental standards in the face of exploitation pressures from commercial fishing, mining and tourism companies. As an official observer to the Antarctic Treaty System, we also closely monitor the activities of the nations with a presence on the Antarctic continent.
ASOC's long history of Antarctic advocacy provides critical opportunities to influence other Antarctic stakeholders. This year, we were instrumental in convincing Japan to support a proposal to require scientific observers on krill fishing vessels. Healthy krill populations are essential for the survival of many Antarctic animals, including penguins, seals, and whales. The information gathered by those observers will assist regulatory bodies in determining krill catch limits and measuring the impact of increased fishing on wildlife. With your help, ASOC can continue its vital work.
Join us today in protecting the world's last unspoiled wilderness!